Update on Broker Compensation Disclosure Requirement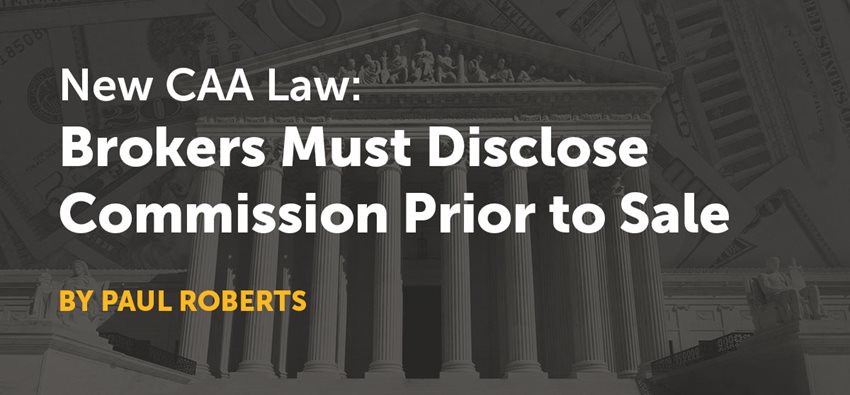 The Consolidated Appropriations Act (CAA)
, a new federal law signed at the end of 2020, will soon require health insurance agents and brokers to disclose their commissions to clients, in writing, in advance of a sale.
Proposed Timing for Disclosure Notices
The new law requires brokers to disclose commissions for contracts entered into, on or after December 27, 2021. This law only applies if the broker reasonably expects to earn more than $1,000 in "direct compensation" and/or more than $250 in "indirect compensation" from the health plan or insurance carrier.
Applicable Lines of Coverage for Disclosure
The requirement generally applies to all types of health insurance plans, across all market segments – Small Group plans, Large Group plans, Individual and Family plans, self-funded plans, fully funded (traditional) plans, FSAs, HRAs, etc.
Brokers must also keep their disclosures accurate and up-to-date and are required to update disclosures within 60 days after any changes in commission occur.
What We Know vs. What Information Needs Clarification
What we know today is what the letter of the law says itself, that commission must be disclosed beginning December 27th. However, the Department of Labor (DOL) has not yet released regulations or guidance on compliance with this law in the
Group Insurance market.
Major unknown items requiring clarification:
Does the law apply to plans quoted/sold on or after December 27, 2021? Or,
Does the law apply to business that is effective December 27, 2021, or later?
What does a compliant disclosure document look like?
Will DOL create "model notices" to use? If so, when will they be available?
How do regulators define "indirect compensation," and "direct compensation"? What is the difference?
An agent's group commission is typically based on enrollment, which is conducted after an employer has made its plan selection. Commission can fluctuate monthly according to eligibility changes. How is a broker to disclose commission in this scenario?
Transparency Disclosure Template
Word & Brown is working closely with the National Association of Health Underwriters (NAHU) in hopes of shaping these regulations for agents and addressing many of these "unknowns" as the December 27 date nears.
We have created our own disclosure template for brokers to begin using as we wait for further regulatory guidance and model notices.
We recommend you use our exclusive
Word & Brown Broker Transparency Disclosure
as a best-faith effort to comply with the law in the absence of regulatory guidance. You can
download the Disclosure Template here
.
Broker Transparency Disclosure Template Details
The law requires brokers to make a statement about whether they do or do not expect to be named "fiduciaries" of the plan. In most fully insured circumstances, the employer is the plan fiduciary.
The law also requires agents to disclose a list of services provided to the client, as a way of demonstrating the broker's value (and the commission the client is paying to the broker). You will see sections for both of these items in the Word & Brown Broker Transparency Disclosure template.
Because commissions vary by month, according to enrollment and eligibility, the disclosure template contains a fillable list for brokers to enter the names of sold plans and the commission percentages earned on premiums from those plans.
Word & Brown has references to show commissions paid by carrier, state, and Market Segment as follows:
Customize Your Broker Transparency Disclosure
Lastly, the Broker Transparency Disclosure template is customizable. Enter your name, your client's name and contact information, and your logo on the top right corner of the document.
We recommend keeping record of all disclosures to document your compliance with the law.
More to Come
We will keep you posted as regulators release additional information about this law.
---
Most Recent Articles
---