Important Licensing CE Change for California Agents – Fraud-Prevention Ethics Training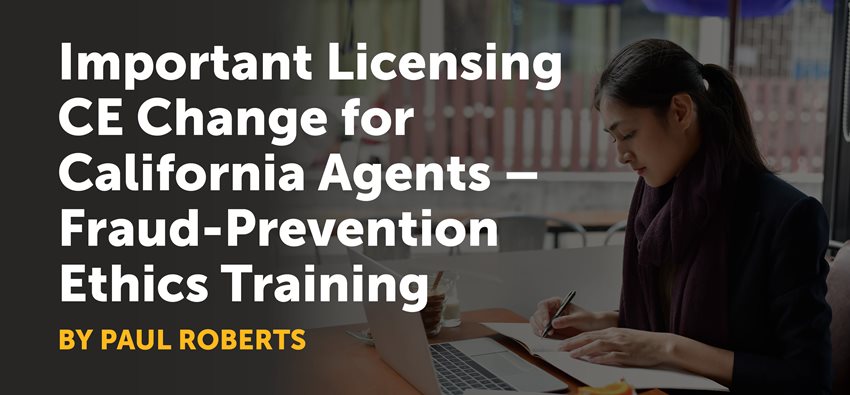 The California Department of Insurance (CDI) recently changed its Ethics Continuing Education (CE) requirements for licensed health insurance professionals in the state.
Agents are still required to earn at least three hours of Ethics CE training to renew a license, but under the new requirements, one of those hours must now focus entirely on fraud prevention. The CDI has developed its own one-hour CE course to satisfy this requirement. Taking the CDI course is the
only
way to earn this hour of CE.
The new fraud prevention CE course, called "Agents and Brokers Anti-Fraud Training," is
offered free of charge by the CDI
on its insurance.ca.gov website.
Once agents complete their training, they must
sign an attestation
and submit it electronically to the CDI to earn credit for the hour. Agents are also required to store the completed form for recordkeeping purposes.
The new Ethics CE requirement is
effective beginning
March 1, 2023
. All agents with a license renewing on or after March 1, 2023, must take this hour of fraud-prevention CE to renew their licenses.
Background
California requires its insurance agents to stay ahead of industry changes and trends by pursuing ongoing, continuing education.
Licensed health insurance agents must complete a total of 24 hours of Continuing Education (CE) training each two-year license term to renew their licenses and keep them active.
While CE hours can be earned on any CDI-approved subject that corresponds with the agent's specific license, at least three of those hours must be focused on ethics. Under the new requirements, one of those three ethics hours must be the new fraud-prevention training, obtained through the CDI.
Agents can take ethics courses available in various hour increments. There are one, two, three, four, and more CE credit hours given to approved ethics courses. Agents must complete courses with credit hours that either meet or exceed the agent's required number of ethics CE hours.
Education providers may include a one-hour viewing of the new CDI class within ethics programs of 3+ hours, to satisfy the agent's full bi-annual ethics education requirements in one session – encompassing standard ethics and fraud-prevention ethics.
Alternatively, agents can obtain two or more separate, non-fraud ethics hours, and take the CDI's new course at their leisure.
The CDI also requires education providers to disclose when an Ethics CE course does not satisfy the fraud-prevention requirement.
Similar Requirements for Prospective New Licensees
The new fraud-prevention ethics requirement is incorporated into prospective new agents' pre-licensing training requirements. Prospective agents are still required to obtain 12 hours of ethics pre-licensing training, but now one of those hours must be the new fraud-prevention course provided by the CDI.
Fraud Prevention Details
Per the CDI and the Coalition Against Insurance Fraud, insurance fraud costs billions of dollars every year. The Coalition conducted an extensive study that concluded with a report issued in 2022, which indicated that
at least
$308 billion is lost to insurance fraud each year.
Agents play a key role in protecting against and preventing fraud. Agents are in unique positions to detect suspicious insurance applications, potential fraudulent applications, and claims – and stop them before the fraud is committed.
With the change in recent California state law, beginning in 2023, agents and brokers now have a required duty to report suspected fraud. To help agents comply with this new requirement, the CDI developed the new training. The training aims to help agents identify red flags for potential fraud, so they may meet their new reporting obligations. By participating in this required training and following the new reporting requirements, agents are helping the CDI's fraud enforcement staff in its mission to prevent fraudulent insurance transactions, while sending a strong deterrent message.
The CDI's fraud enforcement team is the largest branch within the Department, with more than 300 staff members dedicated to protecting Californians and stopping fraud. The team includes detectives, investigators, and support staff; collectively about 30% of CDI employees work in this fraud enforcement branch.
Additional Resources
To reiterate, this new one-hour insurance fraud training is a part of, and not in addition to, the three-hour ethics CE training requirement and the 12-hour pre-licensing ethics training requirement.
Insurance agents and brokers may check their own CE hours on the CDI's
"License Status Inquiry"
webpage.
The CDI also has online resources to learn about
Continuing Education (CE) requirements
and the
ethics continuing education requirement
.
---
Most Recent Articles
---