COVID-19 Tests: Where Your Clients Can Get Them, How to Have Them Paid for by Health Insurance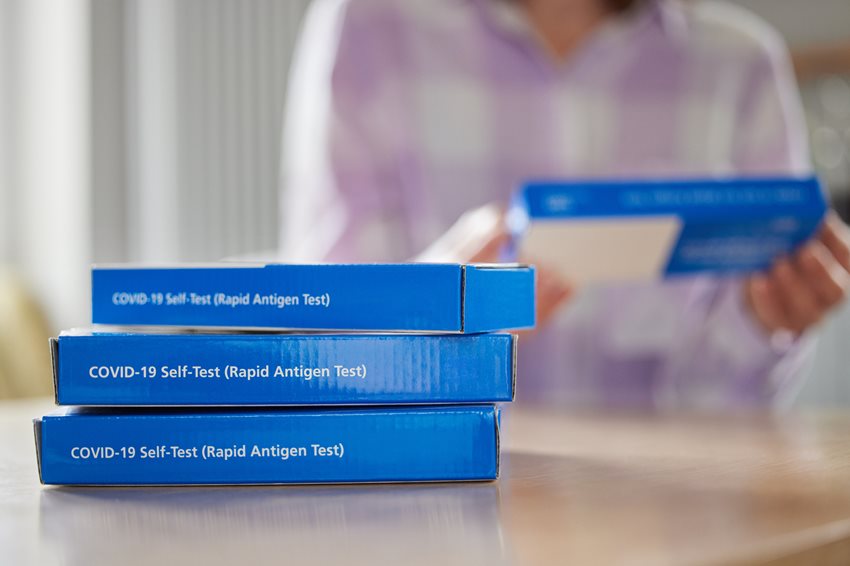 As the
Omicron variant has spread across the country
, the interest among Californians and Nevadans has increased for at-home testing and testing through other means (like a local test site, an Urgent Care, or a personal physician).
In California, the rise in cases of COVID tied to Omicron started in mid-December. As of January 18, the state was reporting more than 115,000 cases daily, far exceeding the previous high. Officials at the Centers for Disease Control and Prevention estimated early in January that the variant is responsible for up to 95% of recent test samples.
In Nevada, the spread of Omicron has also been significant.
The Nevada Independent
reported "a skyrocketing number of COVID-19 cases and hospitalizations," which Governor Steve Sisolak described as "alarming." Attendance at the annual Consumer Electronics Show (CES) in Las Vegas last month fell by more than 70% (vs. two years ago), and organizers attributed the decline to the continuing threat of COVID-19.
President Joe Biden announced in December a plan to increase test availability for millions of Americans. He shared his plan to have the government purchase 500 million rapid COVID-19 tests that would be available at no cost to anyone who wants one. The website to order a free COVID test launched ahead of schedule on January 18, allowing individuals to request four kits be sent directly to their homes. Tests are expected to ship within seven to 12 days of being requested online, with the United States Postal Service handling most deliveries.
However, not all Americans have access to the Internet, and can go online to place a test kit order. In addition, according to social media reports, there are issues for some requestors who live in multifamily housing units like condos, dorms, and houses sub-divided into apartments. The federal website did not initially allow residents to place a home test kit order if a resident at the same address beat them to it. In response, a phone line is being set up to help resolve this issue and others (such as if a family is larger and has a need for more than four test kits).
As of January 15, the federal government mandated that private insurers cover up to eight free at-home tests per month for each insured individual. (If your client has a family of four, he/she/they are eligible for 32 test kits per month.) Tests can be purchased online or at pharmacies and other retailers. If the provider is part of the insured's health plan network (such as a CVS, Walgreens, or other national or regional pharmacy chain), the test is free. If the supplier is not part of the provider network, the insured can ask for reimbursement. Of course, right now, there is a shortage of test kits in many states, although new contracts have been awarded to beef up the national test kit supply.
According to a Kaiser Family Foundation analysis of insurers nationwide, six of 13 insurers reviewed (including several doing business in California) offer enrollees the option to purchase rapid tests at in-network or preferred pharmacies. Others offered reimbursement.
There is a limit to what an insured can be reimbursed. The rate is set at $12 per test. If someone pays $30 for a test – not unheard of with the current test shortage – he/she/they would be $18 out of pocket.
Seniors are not eligible to get their tests reimbursed by Medicare; however, those covered by Medicare Advantage (Part C) plans may be eligible for in-home tests at no cost (or reimbursement if kits are purchased after January 15). State Medicaid and CHIP (Children's Health Insurance Program) plans do cover the cost of home tests.
Seniors can also get a free test through the federal government's
free COVID test website
. In addition, testing is available through community centers and labs across the country; however, a no-cost rapid antigen or PCR test is limited to one test annually unless requested by a physician.
Scammers have entered markets nationwide to try to capitalize on the growing interest in home testing. Fraudulent test sites pose a risk for consumers for inaccurate tests, financial loss (if the tests are not offered without charge), and identity theft. The Federal Trade Commission warned this month of online criminals selling unauthorized at-home test kits. It posted
information on helping consumers avoid a fake test at its website
.
The Associated Press reported on January 20 of an action by San Francisco's city attorney seeking information from a Bay Area lab and test operator, Community Wellness America Inc., accused of running a rogue operation. The company is alleged to be operating unauthorized test centers across the state, including in Marin, Los Angeles, and San Diego counties.
To stay up to date on what's happening in the health care and health insurance industries, visit the Word & Brown
Newsroom
, where we regularly post insurer, health care, and related news.
(Editor's note: At the time this story was written, seniors were not eligible for home test reimbursement; however, the Centers for Medicare and Medicaid Services announced that Medicare would begin paying for home tests in March, if purchased at participating pharmacies and retailers. Those with Medicare Part B will be able to get up to eight tests monthly.)
---
Most Recent Articles
---