New WBBroker Mobile App Helps You Manage Your Business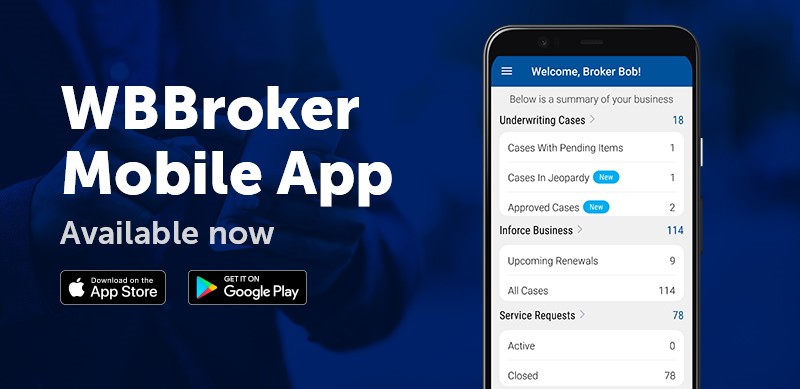 WBBroker gives you the ability to:
Get a quick look at your block of business: Use the Personalized Dashboard to view open opportunities, inforce policies and premium, upcoming renewals, cases in Underwriting, and more.
See an inforce business summary: Check out your book based on coverage effective date, quote effective date, group or carrier name, policy number, coverage, payment date, and last payment amount.
Quote two ways: Get a conversation with your client started using a quick estimate quote from WBBroker or a detailed employee-choice quote from WBQuote Lite.
View real-time Underwriting updates: Look over your cases in Underwriting, respond to pending items, or look at quotes based on name, effective date, carrier, coverage type, enrollee count, premium, and more.
Do quick Provider Searches: Build a quote that includes access to the doctors, medical groups, and facilities your clients want. WBBroker ensures you include your client's preferred health care providers.
Act now to download the free app at
www.wordandbrown.com/wbbroker
. Or, contact your Word & Brown representative to schedule a demo.
---
Most Recent Articles
---