Accessing Pharmacy Benefits for California Small Groups: Pharmacy Rx BIN and PCN Numbers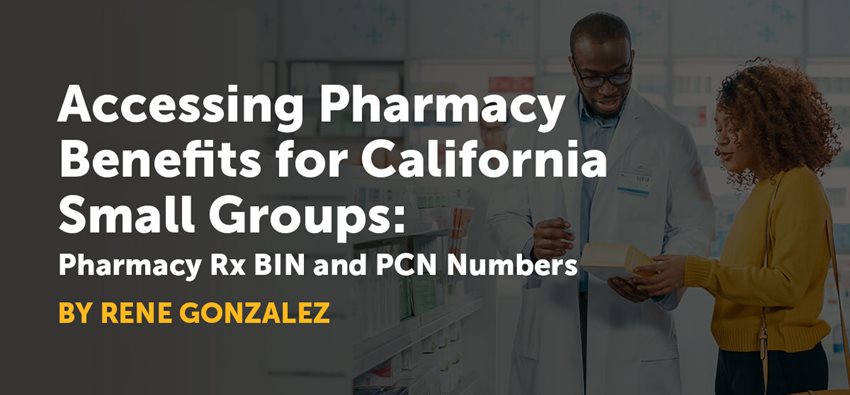 When health insurance consumers enroll in coverage for the first time, change health plans (at any time), or change insurance carriers, they can sometimes experience a delay in accessing pharmacy benefits. This is because of the brief administration period the health plan needs to process such changes.
When this occurs, while waiting to receive their new health plan ID Cards, members may use their plan's Rx BIN and PCN numbers to access pharmacy benefits.
The Rx BIN number is a six-digit number health plans use to process electronic pharmacy claims. The PCN (Processor Control Number) identifies each health plan's drug benefit processor or Pharmacy Benefit Manager (PBM).
Rx BIN Numbers and PCNs for California Small Group health plans are shown by carrier in the table below. Your clients may be able to use this information, if necessary, to obtain prescriptions during this short transition period.
Rx BIN Number
PCN
Aetna
Rx BIN: 610502
Rx Group: Aetna
PCN: 00670000
Anthem Blue Cross
Rx BIN: 020099
PCN: IS
Blue Shield of California
Rx BIN: 004336
PCN: 77993333
Chinese Community Health Plan
Rx BIN: 003585
Rx PCN: ASPROD1
Cigna + Oscar
Rx BIN: 003858
PCN: A4
Health Net
Rx BIN: 004336
PCN: HNET
Kaiser Permanente -
Northern CA
HMO
Rx BIN: 3585
Rx Group: Not Required
Tax ID: 94-1340523

Medicare Part D
Rx BIN: 11842
Rx Group: NC
Tax ID: 94-1340523

COB Address
P.O. Box 7012
Downey, CA 90242
Rx PCN for MMA: NCCMS
Rx PCN for HDHP: NCHDP
Rx PCN for HMO: 70000
Kaiser Permanente -
Southern CA
HMO
Rx BIN: 3585
Rx Group: Not Required
Tax ID: 94-1340523

Medicare Part D
Rx BIN: 11172
Rx Group: SC
Tax ID: 94-1340523

COB Address
P.O. Box 7012
Downey, CA 90242
Rx PCN for MMA: SCCMS
Rx PCN for HDHP: SCHP
Rx PCN for HMO: 70000
MediExcel Health Plan
MediExcel Health Plan is a cross-border health plan. Members must obtain prescriptions at contracted pharmacies in Mexico.

MediExcel Health Plan does not contract with any pharmacy in the U.S.

MediExcel Health Plan will reimburse members for prescriptions obtained as direct result of an Emergency or Urgent Care Service in the U.S. minus their copay amount.
Nippon Life
Rx BIN: 004336
PCN: ADV
Sharp Health Plan
Rx BIN: 004336
PCN: ADV
Sutter Health Plus
Rx BIN: 004336
Rx Group: Rx21CQ
PCN: ADV
Total Benefit Solutions (Aetna International)
610502 (Aetna)
PCN: 00670000
United Healthcare HMO
Rx Vendor: OPTUMRx
Rx BIN: 610279

Rx PCN: 9999
Rx Grp: UHCNICE
Service Number: 800-788-7871
United Healthcare PPO
Rx Vendor: OPTUMRx
Rx Bin: 610279

Rx PCN: 9999
Rx Grp: UHC
Service Number: 800-788-7871
United Healthcare PPO (Large Group)
Rx Vendor: OPTUMRx
Rx Bin: 610279

Rx PCN: 9999
Key Accounts Rx Grp: UHEALTH
Service Number: 800-788-7871
Western Health Advantage
Rx Vendor: OptumRx
Rx BIN 610011
PCN: IRX
---
Most Recent Articles
---