Using Keyword Search Trends to Power Your Content Marketing Strategy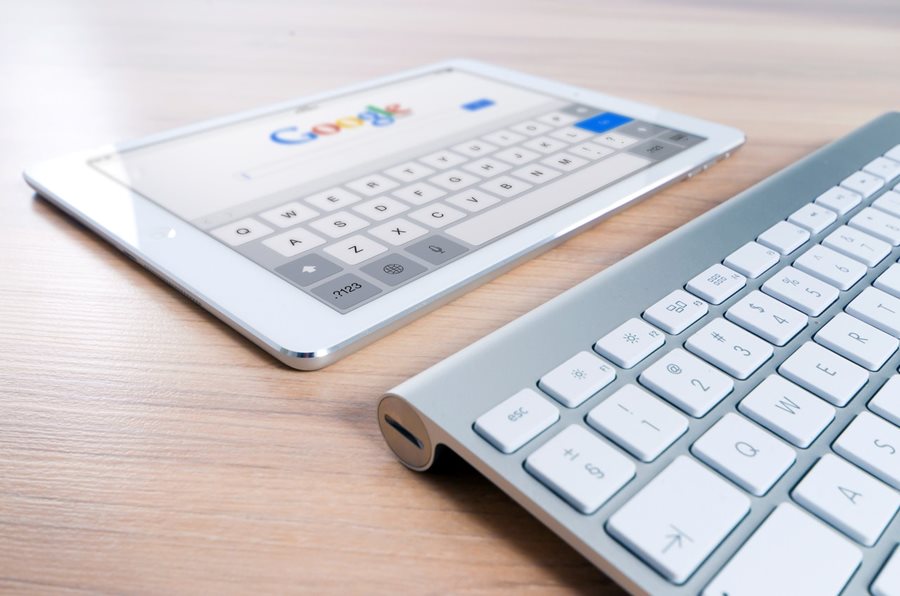 Let's face it, as consumers in the digital age we are bombarded with more advertising and marketing messages than ever before. According to a recent
Market Research
study, in the 1970s the average person saw around 500 to 1,600 ads per day. That seems like a lot, right? Well, when you fast-forward to the future, those numbers seem miniscule. Studies now estimate that in 2021 the average person will see between 6,000-10,000 ads each day! If only we knew what was to come.
Using Data to Make Your Marketing Relevant
As marketers, it's imperative we find ways to have our messaging resonate with consumers whether in the B2B or B2C space. With so many ads and messaging competing for our attention, how do we create content, ads, and messaging that captures the target audience's attention? This is the perpetual task of the marketer.
Traditional methods like focus group testing, research surveys, and using subject matter experts to determine messaging points all still work well. The only issue with these methods is they are largely qualitative in nature and are generally based on a sometimes-limited sample size. Your data in each case is only a sample of the audience that responds to a survey or focus group request, or a sampling of the experiences of your subject matter experts.
An effective way to include some quantitative data into your marketing messaging mix is by using data from search engine keyword searches. One of the best things about digital marketing is the ability to measure everything. There are numerous tools you can use to see which keywords your target audience might be searching for to find your products or services. In this article, we will discuss some ways that you can strategically use keyword research to craft your messaging points.
How Keyword Research Works
Keyword research has evolved significantly over the last several years. In the early 2000s, predicting user keyword searches was a lot more closely aligned with predicting next week's weather. Popular search engines of the time like Yahoo, Google, MSN (Now Bing), and everyone's favorite Ask Jeeves, typically only provided a small sampling of data that could be used to estimate search volume. So, it really was like when your local weather person says, based on these clouds coming in, next week it's going to rain!
Today, while still not 100% accurate, search volume estimates have evolved to take real search data directly from Google and other search engine databases. This gives us a much more accurate view into what users are searching. Using this data, you can gain insights into what type of content your target audience, and prospective or existing clients, might be searching.
Using Keyword Research to Plan Content & Marketing Strategy
In the insurance industry, keyword research can be useful in determining which products, carriers, or health plan types are garnering the most interest in the market. In many cases, viewing keyword search data can help validate what you or other subject matters might already know. In the example below, you can see some popular health insurance plan keywords that are being used frequently in search engines.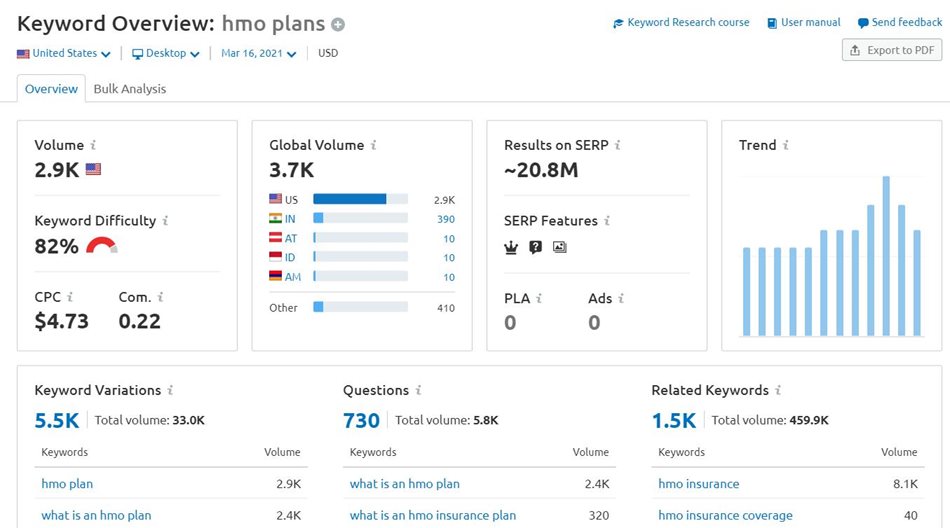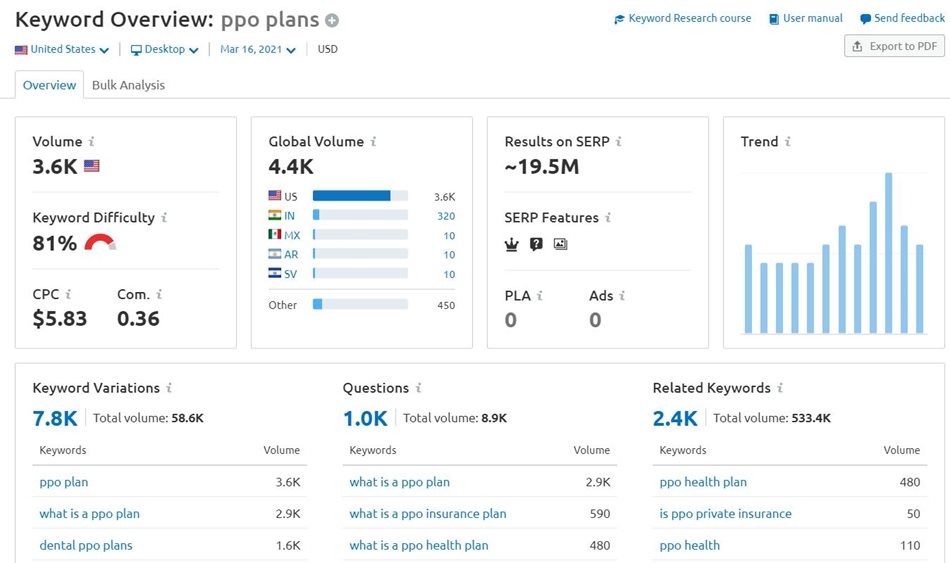 In this example, we can see that the keyword "PPO Plans" is garnering slightly more search volume than the keyword "HMO Plans." This use case is a good example of a way that keyword research can be used to validate an existing commonly held belief. This keyword volume data seems to validate the opinion that PPO plans are more coveted than "HMO Plans" by showing that "PPO Plans" is being searched for more frequently than "HMO Plans." Another strategic way you can leverage keyword search data as shown in the sample is by finding additional keywords that are relevant to concepts in the insurance industry. In the example, we can see that "HMO Plans" is receiving 2,900 searches per month while the term "HMO Insurance" is garnering over 8,100 searches per month.
Based on this data, it would be wise to use the term "HMO Insurance" more often than "HMO Plans" on your website, in ads, or in blog content, since the volume of users who are searching for "HMO Insurance" is nearly four times higher than those searching for "HMO Plans." An important point to note is that an effective content strategy would call for you to use both of these keywords in your messaging mix when applicable. For example, based on the search volume data, you could create two separate blog posts to capitalize on both HMO keyword variations:
Example 1:

"Tips & Tricks for Selecting the Best HMO Plans for your Group "
Example 2:

"How HMO Insurance Works: A Downloadable Guide for Our Clients"
What Are Some Good Keyword Research Tools?
Here is a list of popular keyword research tools you can use to either start or augment your keyword research data set. Some of these tools have both free and paid options.
Use Keyword Research to Power Your Data Driven Marketing Strategy
By using keyword research data to help direct your content and marketing strategy, you can augment your marketing efforts and find endless topics and concepts in which your target audience is showing interest. This is a useful, data-driven strategy to help eliminate some of the guesswork in determining what your customers care about. You can use the data to do the work for you!
About the Author
Kalup Alexander is Digital Marketing Director for The Word & Brown Companies. He holds a Bachelor of Arts degree in New Media Communications and Marketing from Oregon State University and has been at Word & Brown since 2014.
---
Most Recent Articles
---